Photo diary from 3MT: Omeed won!
PhD student Omeed Neghabat from the Department of Clinical Medicine came, saw and conquered at the Three Minute Thesis (3MT) competition final on Friday 10 June. Join us behind the scenes as Omeed Neghabat, both in words and pictures, recounts the three days in Padova that culminated in him being honoured as the 'European PhD student champion of research communication'.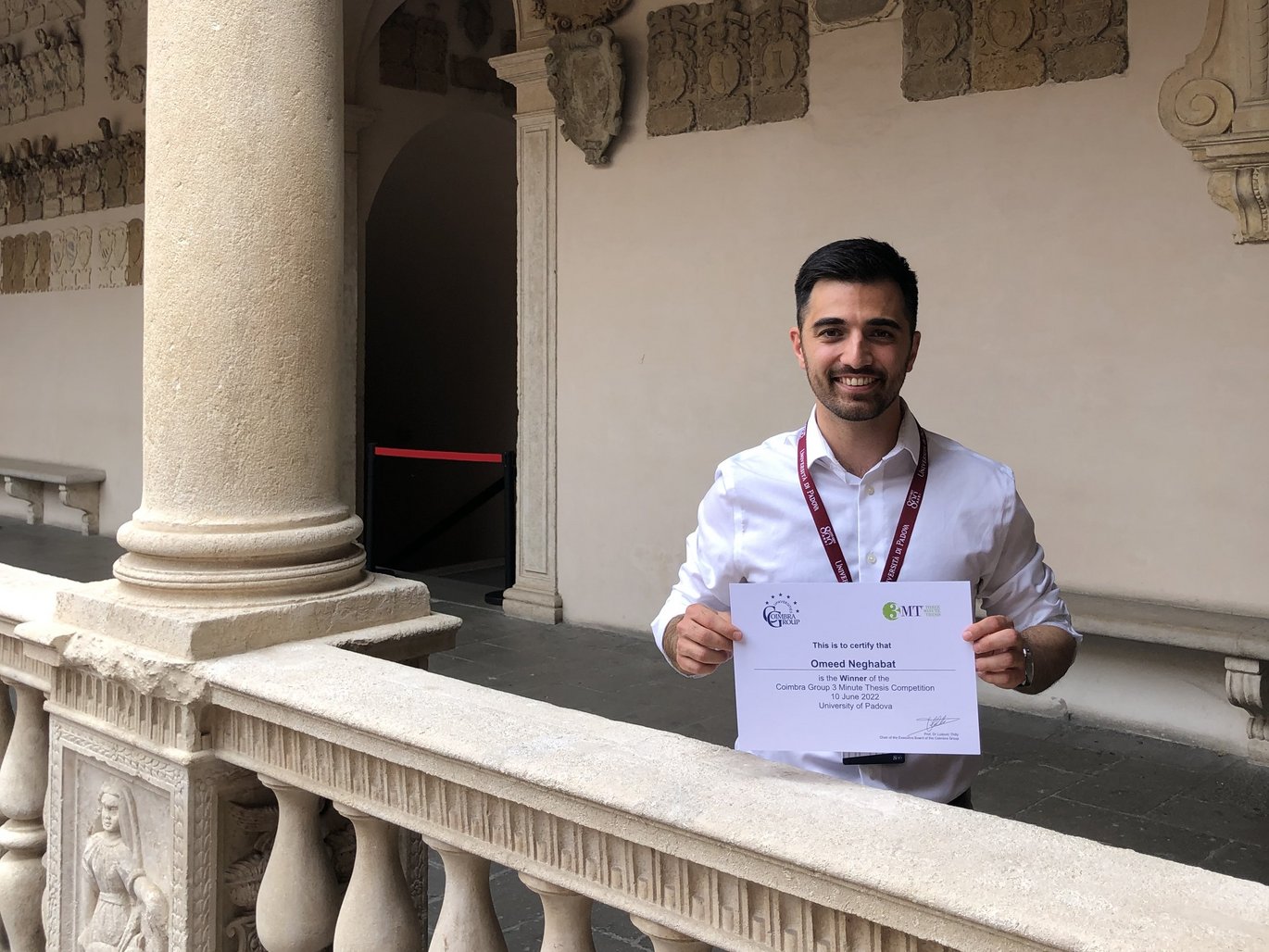 Fact box: 3 Minutes Thesis
3MT or Three Minutes Thesis is a research communication competition for PhD students held all over the world.
The university alliance Coimbra Group, to which AU belongs, is behind the 3MT competition.
Omeed Neghabat prequalified for the European final when he won the 3MT at Aarhus University back in March, competing against more than 20 other PhD students from AU.
Participants from more than 23 European universities participated in the competition. The 41 universities in the Coimbra alliance voted for their top three candidates to find the finalists.
The two other PhD students who participated in the final on 10 June 2022 in Padova, Italy were Effy Ntemou from the University of Groningen in Holland and Ignacio Abadía Tercedor from the University of Granada in Spain.
Omeed Neghabat is a medical doctor at the Department of Cardiology at Aarhus University Hospital and a third-year PhD student at the Department of Clinical Medicine. He expects to submit his dissertation in February 2023.
See the moment Omeed Neghabat is named the winner and watch his final presentation (the presentation begins around 7:30)
In his day-to-day life, Omeed Neghabat spends his time researching how to improve the treatment of blood clots and narrowing of the coronary artery. His work involves filming heart patients' arteries from the inside. However, for three days in June, Omeed Neghabat swapped Aarhus for Padova to take part in a competition on research communication.
Omeed Neghabat is the first Dane ever to make it to the final of the 3MT competition, in which PhD students compete in presenting their PhD research to non-specialists in only three minutes using just their eloquence and a single statistical PowerPoint slide.
Omeed Neghabat walked away victorious after a strong presentation that survived a rather unfortunate mishap. Here is his diary from Padova.
Wednesday, 8 June: Day 1 - departure
My girlfriend Grethe and I take the train from Aarhus to Kastrup Airport, where we jump on a plane to Venice. We arrive in Padova in late afternoon and check in to the Art Hotel Al Fagiano, where the rest of the AU team is also staying. Luckily, there's time to explore Padova – the city is beautiful, the weather is lovely, and the food is top notch.
Arriving in Padova feels like being unshackled from weeks of training, but it's also the beginning of a fluttering in the pit of my stomach that won't really go away until after the final.
Tuesday, 9 June: Day 2 - Preparing for 3MT
I arrive at the University of Padova – the third oldest university in the world (it celebrates its 800th anniversary this year). This is where the Coimbra Group annual meeting takes place. I register and receive my name badge. I'm then welcomed by Benjamin Martinez Sanchis from the Coimbra Group.
I participate in a session on academic freedom in the stunning Aula Magna, the great hall at the University of Padova. This is also where the 3MT final will take place tomorrow. The hall is one of the most breathtaking places I've ever seen! For a few seconds I'm simply rooted to the spot, gaping at my surroundings. This is all getting real, and I'm bursting with excitement. And I'm proud to have made it this far.
After the session, it's time for a soundcheck and rehearsal with the other two finalists; Effy Ntemou and Ignacio Abadía Tercedor. This is also when we meet Gunda Huskobla from the Coimbra Group, who will be moderating the 3MT final.
During rehearsal, I hear my voice resonate and echo in the hall for the first time. The way sound moves around the hall is mesmerising. It's a magnificent moment that I'll never forget.
The day ends with a gala dinner for all participants at the annual meeting. The gala takes place at Café Pedrocchi, and I meet up with the delegation from AU; Jette Hammer, head of careers, alumni and CRM at Enterprise and Innovation and Rikke Nielsen, international manager at AU Student Administration and Services. My girlfriend Grethe is with me at the dinner. She has been my rock both before and during the trip. She helped calm me down when I couldn't sleep due to nerves, and she listened to me practice several times a day as I fine-tuned my presentation. I'm grateful to be able to share this experience with her.
Friday, 10 June: Day 3 – The final
I arrive at the university in the morning. I'm very nervous but I can't wait to get up on that stage! I get my microphone, and take a seat right next to the stage.
Gunda Huskobla welcomes everyone, and I take the stage as the first finalist. I get started on my presentation, but right in the middle I notice on the monitor in front of me that my PowerPoint-slide has changed. I think they'll probably have it fixed quickly, so I just continue. But then I get to the part of the presentation where I have to point to the slide, and since the problem hasn't been fixed yet, I look desperately towards the tech table and see their frustrated faces. This is when I decide to stop my presentation, and have a bit of a laugh about it all. At this point, I'm sincerely hoping they'll let me start over since it's a problem on their side. And they do, so I start from the beginning once more. Luckily, it didn't knock me off my game. I keep my focus and run through my presentation as practiced.
There's a 30 minute coffee break after all three finalist have given their presentations. We're then invited back into the hall. The jury's spokesperson, Adriana Zait, announces the winner. It's me, and I'm ecstatic!
The three finalists have a lot of photos taken with our certificates. Afterwards, I facetime with my mum, dad, little brother and my girlfriend's family. They were all watching from home. There's laughter, tears of joy, whoops, congratulations and applause. Texts and calls start pouring in from near and far. At some point, I put my cell phone on 'Do Not Disturb' so I can enjoy the moment, and then my girlfriend and I head for Venice to celebrate the victory!