Circle U. visit in Paris brings about research stay and funding application
The university alliance Circle U., in which Aarhus University is one of nine partners, is more than just a declaration of intent. That is the finding of a small delegation from the Cardiovascular Network at Health, who have been on a trip to Paris to explore the opportunities for collaboration in cardiovascular research.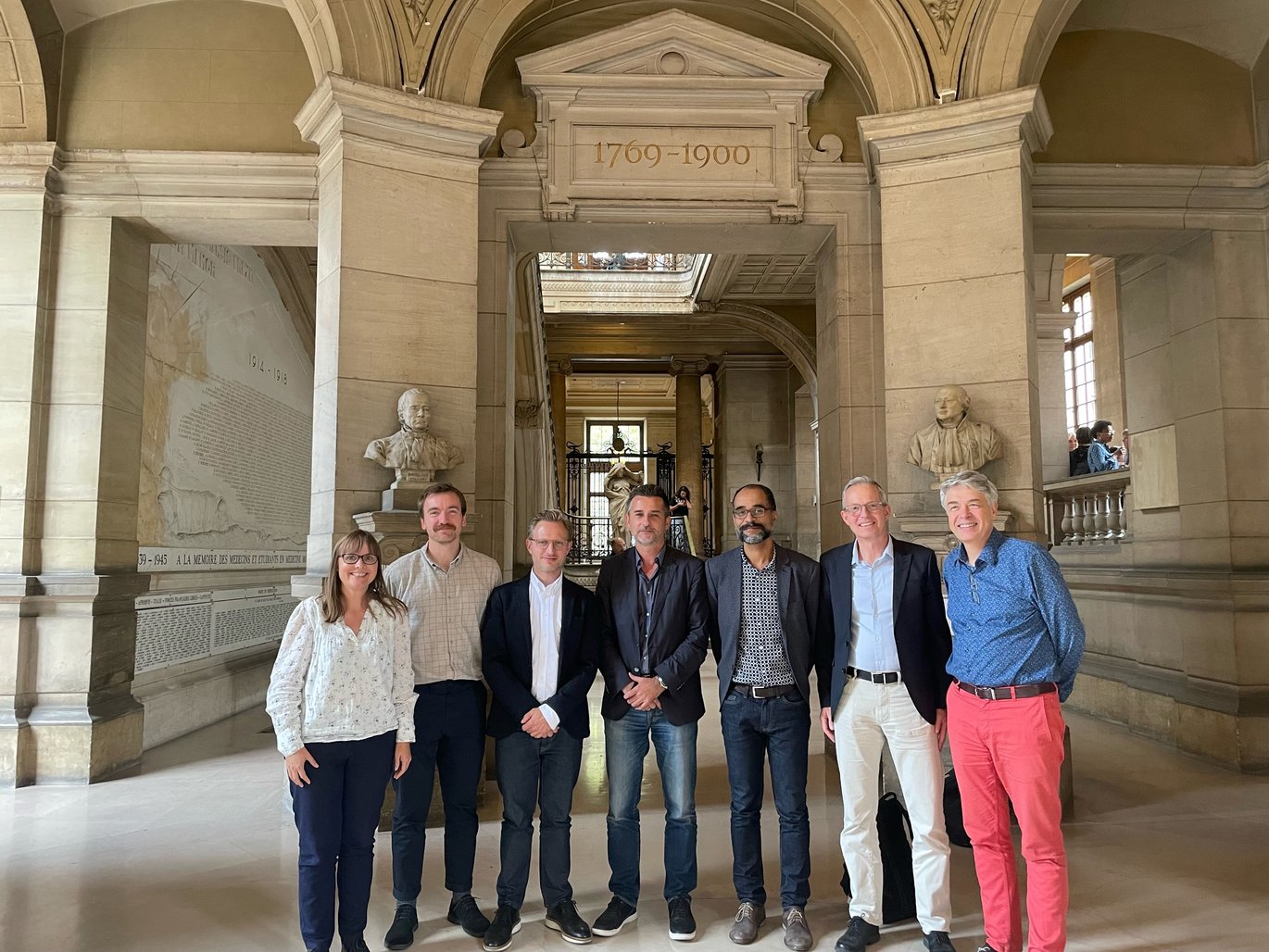 What is Circle U.?
Circle U. is a European alliance of seven partner universities. The alliance aims to foster internationalisation and create new links between research, teaching and innovation.



Circle U. stems from the EU's European Universities Initiative.


In addition to Aarhus University and Université Paris Cité, the alliance includes the following universities: University of Belgrade, Humboldt-Universität zu Berlin, King's College London, UCLouvain, University of Oslo, University of Pisa, University of Vienna
You can read more about Circle U. and the other partner universities at the alliance's website.
Three members of the Cardiovascular Network and the network coordinator visited Université Paris Cité under the auspices of the Circle U. alliance – a European alliance between nine partner universities who are working to make internationalisation easier and forge new links between research, education and innovation. The aim of the study trip was to build up new relations and share knowledge with the newly-established Department of Cardiovascular Research in Paris, and it succeeded in this.
"The trip to Paris is the first example of how we can go out into the world and bring knowledge back to the network. We will evaluate the process in the steering committee, but there seems to be potential in the collaboration, and this is probably also the case for many other universities in Circle U.," says Associate Professor Morten Schmidt, vice-chair of the steering committee of the Cardiovascular Network. He continues:
"In reality, we will probably just have to get used to raising our gaze a little more, looking beyond our own lovely, but also relatively small, backyard in the University Park and thinking about working together on a larger scale."
Morten Schmidt went on the trip with PhD student Andreas Bugge Tinggaard, Clinical Professor Henrik Wiggers and Network Coordinator Anja Einholm.
Joint study trip is a catalyst for new ideas
Clinical Professor Henrik Wiggers is a member of the steering committee for the Cardiovascular Network and conducts research into heart failure. He presented the cardiovascular research taking place at AU and AUH to his colleagues in Paris, and he would be happy to do so again if he gets the offer. Knowledge sharing is the basic idea behind both the network and the university alliance, and Henrik Wiggers received plenty of that to take home with him from his visit in Paris.
"I came home with new contacts, new insights and good ideas. That's what happens when you go out and hear what others are doing – you get inspired. For me as a researcher, I see particular potential in the joint research projects in the Circle U. collaboration. EU applications should preferably be across both disciplines and institutions, so it might be a good idea to create a contact there. They're really good at that in Paris," he says.
Associate Professor Morten Schmidt is also particularly interested in the possibilities of research collaborations, and he has already managed to get one specific collaboration going during the visit.
"I established a good connection over several meetings with the head of their cardiovascular epidemiology programme in Paris. Together, we intend to launch a research project that will hopefully be the first of several collaborative projects between our groups in Aarhus and Paris, and we've already made great progress in our plans for funding," he says.
Looking forward to a possible research stay in Paris
For PhD student Andreas Bugge Tinggaard of the Department of Clinical Medicine, the goal of the study visit was a little different, but still with research as the focal point.
"I feel quite convinced that it will be possible for me to go to Paris for a research stay. That was the goal of the visit for me," says PhD student Andreas Bugge Tinggaard, and elaborates:
"If it all works out, I'll have the chance to go down there and work on something that closely resembles the research I do in Denmark. It's great to experience the hospitality there, which doesn't just apply on a professional level. The researchers in Paris don't just think that the alliance is a good idea – they also intend to use it for specific goals. They take it very seriously, with research of international standard," says Andreas Bugge Tinggaard, who heard about the trip to Paris through his PhD supervisor Henrik Wiggers.
We in Aarhus can easily take part
The four representatives from the cardiovascular network were in Paris for two days in September 2022, and had a packed academic programme planned from the start.
"We attended a strategy meeting on the first day in Paris, and the next day there was a kick-off meeting, which was where they actually met each other for the first time. The department is completely new, so there are many researchers from different units and laboratories. I think they have several hundred members of the scientific staff in Paris and the surrounding area in the cardiovascular field alone," says Andreas Bugge Tinggaard.
Morten Schmidt adds:
"They have a big group, with a total of 33 sub-groups, spanning everything from basic research to clinical research and epidemiology. It's really huge. But the visit also confirmed that volume is not the decisive factor. Even though we are significantly smaller, we in Aarhus can easily take part. In fact, we're probably ahead in several areas, for example with regard to health data, research facilities and productivity."
The potential lies in translational research
Andreas Bugge Tinggaard agrees with this, and he particularly emphasises the untapped potential associated with translational research in the cardiovascular environment in Paris.
"I sense that, with the establishment of the new department, they are trying to put a kind of umbrella organisation together to build bridges between the various research units. And it seems obvious that these initiatives have been inspired by us at AU, and by our research networks at Health. For us it's not far from the yellow to the red buildings, at least not in the cardiovascular area," says Andreas Bugge Tinggaard, and continues:
"I think that's what they aim to do, and in my opinion, this is quite correctly observed. The basic researchers need to know what the clinicians do, and vice versa. And then we have to break down the boundaries, so that some people can have a foot in both camps, or at least know about both worlds. It's really important that we cultivate the whole translational area – that became quite clear to me during our visit."
Contact
PhD student Andreas Bugge Tinggaard
Aarhus University, Department of Clinical Medicine
Mobile: +45 30 27 27 17
E-mail: andreas.bugge@clin.au.dk